News Updates
(Updated January 12, 2022)
Message from the Head Pro, Michael Feeney
We want to remind any walkers, dog walkers, bikers that the golf course paths are closed to being used as a walkway or bike path once the course is open to play. Please no walking or biking on the golf carts paths
Note for Golf Carts: Please all full golf members and tier members that drive private golf carts, bring a copy of your home owners insurance front page to show you have insurance and come in the golf shop to get your sticker! We want to have all private carts done ASAP. Thank You
Demo Days:
Cleveland/Srixon Demo Day - January 20, 2022 at 9 AM
iGolf Trade in Day - January 20, 2022 at 10 AM
Callaway Demo Day - Janaury 26, 2022 at 10 AM
Cobra Demo Day - January 27, 2022 at 10 AM
IGOLF CLUB TRADE-IN DAY or CLEAN OUT YOUR GARAGE
iGolf Value Guide will be here with an opportunity for you to turn your new & used golf clubs into Golf Shop Credit to be used towards any purchase in our Golf Shop
Unable to attend on the date?
Stop by the Golf Shop any time prior to this event and leave your clubs with our Golf Staff so we can get you a quote.
Couples event that was being planned will be postponed to February 2022

<><><><><><><><><><><><><><>
Men's Club Play Day Events
(Updated January 13, 2022)
New Saturday Play Day Series
There are now two additional opportunities to play in MGA Series events on Saturdays.
We have begun the Saturday Play Day Series 1 in addition to the standard Back Tee game. The two remaining events (Series 2 & 3) are focused on mid & high handicap golfers and have the players competing against each other on a net basis. The Saturday Series is made of three 18-hole games. Points are earned based upon game results. The more points, the better - think FedEx Cup! (Click Here to view detail information sheet)
Series 2: Sign up starts on January 26th. Matches will be February 26, March 5th & 19th
Series 3: Sign up starts on March 30th. Matches will be April 30, May 14th & 21st.
The Saturday Net & Gross Super Play Days are one-day event, 18 holes tournaments designed for players of all abilities, as they will compete from different tees (Back Challenge, Silver and Gold), Gross and Net.
Net & Gross 1: Sign up starts January 23rd. Play will be on January 29th.
Net & Gross 2: Sign up starts March 16th. Play will be on April 16th.
For additional information contact Gilbert Matossian, (818) 926-1004, gmsunset57@gmail.com or Dave Hampton, (314) 283-9641, dahampton@me.com.
<><><><><><><><><><><><><><><><>
MGA Golfing Events
(Updated January 12, 2022)
Jan 21, 2022 Member-Member Horse Race
(Click Here for Flyer
Jan 22 & 23, 2022 Member-Member Tournament
(Click Here for Flyer
Jan 29, 2022 Super Gross & Net Play Day.
(Click Here for Flyer
(Click Here to Register)
Apr 7 - 9 2022 Classic Tournament
(Click Here to View Participants)

Feb 19-20, 2022 President's Cup
(Click Here for Flyer
(Click Here to Register)
Feb 24, 2022 Guest Day (w/Lunch)
(Click Here for Flyer)

Feb 26, 2022 Play Day, Series 2
Mar 11 - 13, 2022 MGA Champion Tournament
Mar 30, 2022 Play Day, Series 3
Mar 24, 2022 Guest Day (w/Lunch)
Apr 16, 2022 Super Gross & Net Play Day.
May 6, 2022 Finale HR
May 7 & 8, 2022 Finale Tournament
May 27 & 28, 2022 Memorial Day Tournament
Team Play Results
(Updated January 7, 2022)
The Monterey CC Team play started its seasonal match against Desert Island.
For the first time in the history of Monterey CC, all eight two-man teams provided winning points.
The opponent was overwhelmed by the team's excellent play. This resulted in an impressive victory for the first time in league play.
Monterey CC Team's next event is on January 31st against Indian Wells.
We want to congratulate the members of the team and to its Captain, John Lotich.
GREAT GOING GUYS AND GOOD LUCK
FOR YOUR OTHER EVENTS!
<><><><><><><><><><><><><><>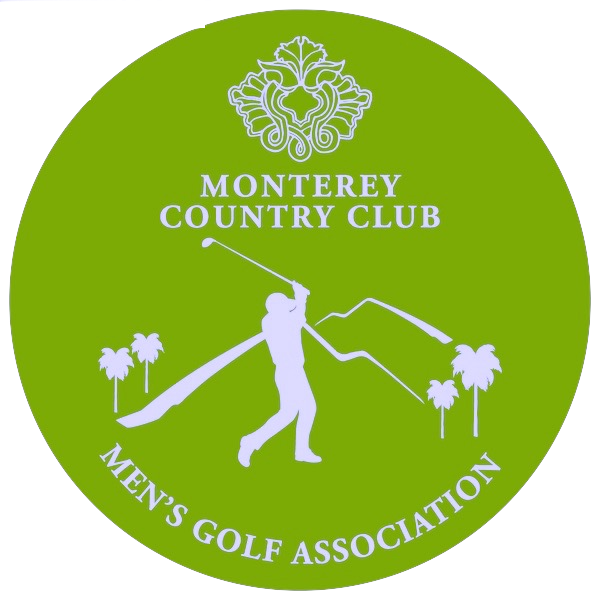 All Men's Club members are invited to the Monterey Men's Golf Association Annual Meeting on Thursday, February 3, 2022 beginning at 1:30PM. The meeting will be held in the Sunshine Room of the Monterey Country Club.
If you have questions that you would like answered please submit them to Jim Brock, our Secretary, so the Board can be prepared. Certainly there will be a Q & A session in the agenda as well.
Thursday Men's Club Play Days
(Updated December 13, 2021)
This is a 9-hole golf game series for the 2021-2022 season. The Men's Club is promoting "Thursday Play Day" for fun golf and camaraderie for our members.
Following the 9-hole game, the team and or individuals may choose to continue and play the next 9 for 18 holes. You can play any number of the games. Come out & play. You will meet other members in a relaxed format.
The Pro shop forms teams of foursomes each game day. Score cards and game rules will be given out to each team. The Pro Shop will email players of tee times and pairings the evening before you play.
Click Here for more information on play dates and event formats or contact Dale Fleming, (909) 731-6601, dsfleming0448@yahoo.com
<><><><><><><><><><><><><><><><>
It's Time to Renew Your MGA Membership
The deadline to renew is December 31, 2021.
Click here for MGA renewal forms.
<><><><><><><><><><><><><><>
MGA Member Guest Tournament
The Member-Guest Tournament was held on January 8, 2022. The event was very successful and the tournament results are listed below.
Congratulations to the winners:
Flight 1 was Ed Lieberman and Richard Curry
Flight 2 was Rick James and Christopher Hensley
Flight 3 was Lionel Salhus and Tom Dutton
Closest to the Pin:
Bob Seskula John Price
Greg Rund Sam Moses
<><><><><><><><><><><><><><><><>