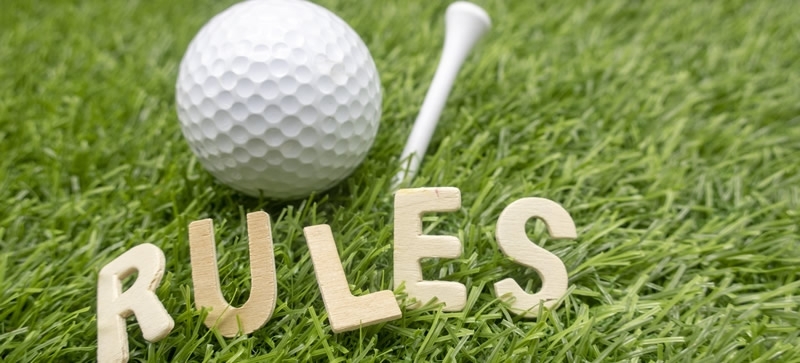 Play from Bunkers During COVID-19
Option 1
Play the ball in the bunker. You may lift the ball and place it within in six inches of the original position. No closer to the hole. You can't touch the sand or smooth it until you have hit out of the bunker. No penalty
Option 2
Remove the ball from the bunker under rule 16.1b, no closer to the hole. One stroke penalty
>>>>>>>>>>>>>>>>>>>>>>>>>>>>>>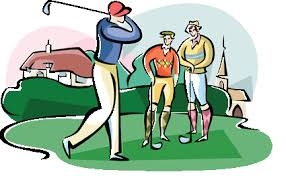 The Finale, the Men's Club end-of-season tournament. It begins with a horserace on Friday, April 30 and continues with an eclectic format on Saturday and Sunday, May 1 & 2. A hosted cocktail party with Hors D'oeuvres follows the horserace. In a new twist, you can choose your own Partner for the horserace.
Lunch and awards follow the end of play on Sunday.
Entry fee is $50 per person and $20 per person for the horserace. All play will be from the silver tees and the three-month low index will be used.
Enter both the Eclectic Tournament and the Horserace on the Men's Club website. Deadline to register is April 25.
Click Here to Register for Eclectic Tournament (May 1 & 2)
Click Here to Register for the Finale Horse Race (April 30)
For additional information please contact:
Mayer Maloney maloneymayer@gmail.com or
Jim Brock jbrock92260@gmail.com.
>>>>>>>>>>>>>>>>>>>>>>>>>>>>>>
Frank is survived by his wife Maureen and his children, Sheila and Mike. He has four grandchildren Mathew, Nicolas, Grant, and Paige.
He was first appointed as the Communications Director for the Men's Club in 2010. Frank designed and maintained the first Men's Golf Association website which informed members of upcoming and current events.
He served on the Monterey Country Club Advisory Board for 3 years providing guidance on club issues based on his many years of golfing experience. He was also an advisor to the Men's Golf Association Board of Directors for the past 15 years.
He was Captain of the Monterey Travel Golf Team since 2015. Frank fostered the growth of the Wednesday skins game and served on the first committee establishing the Monterey Cup and was the commissioner for many years.
Frank was instrumental in advising and assisting many of the golfing organizations. He was known as a leader, a friend, and a confidant to everyone in the Monterey Community.
He will be missed.
>>>>>>>>>>>>>>>>>>>>>>>>>
Frank Davis
August 15, 1946 – March 22, 2021
MCC Upcoming Events
PUB NIGHTS (Indoor & Outdoor)
Tuesdays & Thursdays 4pm to 7pm
(Reservations Required) (760) 568-9311 Opt 3 or
email receptionist@montereycc.com
FRIED CHICKEN BUFFET Friday, April 16th 5pm – 7:30pm (Reservations Required)
DUELING PIANOS DINNER AND SHOW Friday, April 23rd (Reservations Required)
PRO MEMBER CHALLENGE w/ Complimentary Beverage Cart Service during the competition
Saturday, April 24th & Sunday, April 25th
>>>>>>>>>>>>>>>>>>>>>>>>>>>>>>>>>>>>>>>>>>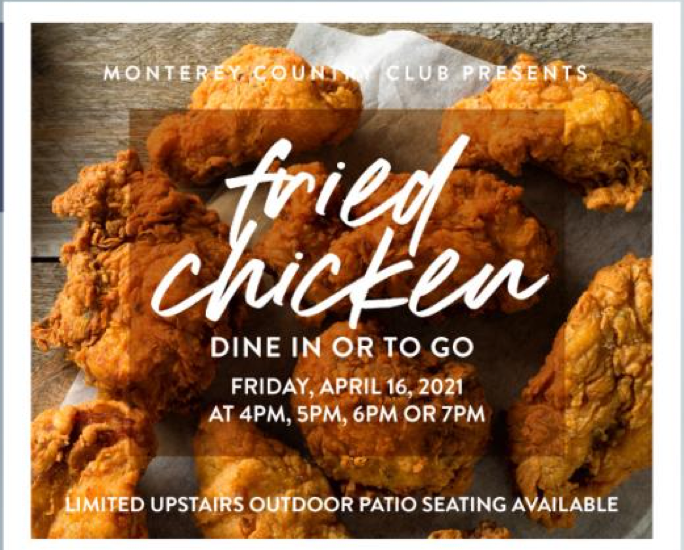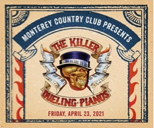 The Pro / Member Challenge
Come out and enjoy an afternoon of precision golf. The Pro Member Challenge will be on Saturday April 24th South Course and Sunday April 25th West Course. This is a 9 Hole Scramble, starting at 12:30. Click Here to view the flier.
Representing the Member Team
(Defending Champions)
Gary Bullington Jim Casey
Greg Bovero Joe Ayala
Marianne Barker
Pro Team
John Kulow David Goldstein
Chris Royce David McGuffin
Diana Hawley
Complimentary wine, beer, and cold drinks while supply lasts.
(Provided by MCC and John Kulow)
Riverside County and MCC Covid 19 protocol will be followed
>>>>>>>>>>>>>>>>>>>>